Defining Customer relationship management?
Customer Relationship Management (or CRM) is described as how your business communicates with customers. Most people think of CRM as a system for capturing information about your customers. CRM involves using technology to gather the intelligence you need to provide advanced support and services to your customers.
In other words, CRM is also about what you do with that information to better meet the needs of your existing customers. and identify new customers, which has led to higher profits.
CRM benefits for small, medium & large size businesses
Online customers have a special set of expectations that distinguishes them from traditional customers. As for, expect more information about your company. and your products to be found online with a little search, near faster service, opportunities to use your website. faster product delivery, and post-sales support. Thus, you need to look at the CRM principles when doing business online.
There is no doubt that many small, medium and large businesses have captured drastic growth, through the systematic implementation of CRM strategies. Before starting with the list of benefits lets have a look at the statistics in the image below:
Click to enlarge the image
CRM software users from different Sectors
Click to enlarge the image



Why invest in CRM Tools?
Click to enlarge the image
CRM users in the year 2008 as compared to on-premise and cloud-based  today
Clearly, it can be observed from statistics that in the year 2008 there were only 12% of cloud-based users. And 88% of businesses were on-premise users i.e, were unautomated. However, Today there is a whopping rise of 87% in cloud software users, and only 13% are On-premise users.
On-premise Vs Hosted CRM
What is the reason behind such a drastic rise?
The reason behind such a drastic rise in the number of users is All in one benefits provided by the Cloud-based automated software. Which includes:
1. CRM build value for businesses
By combining and analyzing this information, you can then create a strategy with this information to:
Increase business opportunities by anticipating the needs of your existing customers.

Identify your major customers.

Identify potential customers.

Find compatible products you can make.

The sell to your customers. Specified advertising campaigns/building materials and promotions.
2. CRM build value for customers
Some ideas on how to use this information to increase your company's visibility to the customer include:

Make ordering or purchasing easier by using unfinished order forms and email reminders.

 Create a shopping experience for your customers and allow them to be used to reduce customer waiting times.

 Develop an e-newsletter or blog with topics that may be of interest to customers to gain their credibility.
CRM features and benefits
3. High customer retention
In addition to being a great help in finding and nurturing your potential and new customers, CRM is also a great tool to keep your existing customers happy.  But what really makes a difference here is that CRM can motivate you and reach out to those customers who have never been contacted there, and you probably feel ignored. After all, keeping an existing customer six or seven times cheaper than getting a new one, says Frederick Reichheld's report by Bain & Company.
4. Faster & better communication
Saving your time with your customers is a CRM system, providing you with a set of customized, ready-to-use email templates. books, documents, suggestions, quotes, invitations, newsletters, etc.
If you are talking about ready-made templates, here is your copy.
Our most recent version of the Customer Service Benchmark Report found that 90% of companies do not use automotive responders. to allow them to receive customer service emails.
Best CRM software – recommendation
If you are an online-based small, medium, or large size business. no worries! here, are some best CRM platforms to strengthen your customer base.  
1. Zoho CRM
Very popular CRM platform. Click here to access the Zoho CRM system.
2. Agile CRM
Another popular CRM tool comes with various smart features. Helps in managing, connecting, and responding to customers with ease.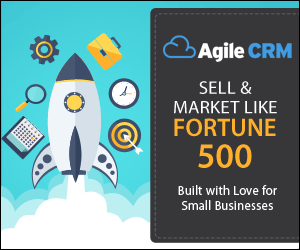 3. Insightly
This is another highly smart CRM tool to manage & communicate with your customers. Provides a highly customized dashboard to manage, track & communicate with your customers. Click here to visit insightly CRM.