In this article, I will not only cover the topic related to backlinks but also suggest to you the best sources where you can buy quality backlinks. So make sure to stick till the end.
An effective website optimization plan includes three main components: onsite SEO, social media, and backlinks. This article will focus on the topic of backlinks and how they can be used to elevate your website in search engine rankings and give exposure to your site.
What is a Backlink?
Just go through the video above to learn more about backlinks.
A backlink is a hyperlink from an external source that points directly to your website or webpage. I may add a link to Wikipedia from this article to help me explain it further. If you click on this link you will be directed from Wikipedia to my website. In doing so I have provided a backlink to Wikipedia.
Similarly, if Wikipedia were to add a link to my website on one of their web pages, they would provide me with a backlink. Backlinks can come from a variety of sources and we will explore some of the most commonly used techniques later in this article.
How does Backlink benefit SEO?
Before I talk about How does Backlink benefits SEO. Various changes have taken place in the past few years related to backlinks. One suggestion always focus on getting backlinks from quality websites.
There was a time when even low-quality links helped a site rank. But ever since Google introduced its Penguin algorithm, the whole landscape of backlinking has changed.
It's important to have backlinks from quality sites, and those backlinks should be relevant. If, for example, you have a site about fish, and you're building links to other specific sites about monkeys, these links will be of no use. Your goal should be to get links from official and relevant sites. Let's have a look at the benefits of backlinks in SEO
1. Faster Indexing
Search engine bots find new web pages by following backlinks from existing web pages. Only when they know your site can they crawl your site effectively.
If you don't have any backlinks then it will be more difficult for search engine bots to find your site. Especially for a new website, it is important to get backlinks as they help in faster search and indexing of your site.
2. Improves organic traffic
Backlinks help in gaining better search engine rankings. this ultimately brings organic traffic to your website.
Important Note: "SERPs" stands for Search Engine Results Page. This screenshot is only showing what people see in Google.
Here's an example.
Take the topic "SEO Backlinks".
If I enter this search term in SEMRush SERP analysis (a keyword research tool), I can see that most of the high ranking pages have lots of backlinks:
If your content is getting links from other sites, then that content will naturally start to rank higher in search results. If it isn't, you need to be proactive and create them.
Your goal should be to create links to individual posts/pages as well as your homepage.
3. Improves referral traffic
One of the major benefits of backlinks is that they help in getting referral traffic. Basically, someone who is reading a post can click on the link in the post to know more about that topic.
Since people willingly click on the link, they are usually more targeted and less likely to leave the page faster (aka a lower bounce rate).
Typically, referral traffic is targeted and has a low bounce rate.
What factors influence the quality of a backlink?
As stated earlier the quality of backlinks you get should be a top consideration while implementing your backlink strategy. In the good old days of poorly functioning search engines, which was very simple, the more backlinks you had, the higher your rank. It was that simple.
However, with search engines constantly evolving in their ability to sniff out such behavior, there are now a few factors to consider when adding a new backlink to your website. Ultimately, all backlinks you add should be from high-quality websites and differ in their source and link location. It's also important that your backlinks look natural in their source, anchor text, link location, and the frequency at which they are added.
Domain authority (DA)
This concept was first introduced by MOZ which basically measured on a scale of 1 to 100. Higher the score means high backlinks towards a particular website. A high Domain authority (DA) score helps in faster indexing and helps the web crawler to rank and recognize the particular website.
Page rank (PR)
It is an algorithm used by the Google Search engine to rank websites in their search engine results pages (SERPs). PageRank (PR) was named after one of the founders of Google, Larry Page. PageRank is a way to measure the importance of website pages in terms of content quality. According to Google:
Website Theme
The theme of the website is also an important factor to consider. If you have a blog about fitness and many other fitness-related websites link to your blog it signals to search engines that your blog is popular in fitness topics or niches.
This will increase your ranking because your website will appear highly relevant when keywords related to this topic are searched. 
Anchor text
The text you use for your links is known as anchor text and is used to add links within a webpage without breaking the flow of the content. When a search engine crawler comes to a link it reads the anchor text and if you use related keywords within your anchor text. it will notify the search engine of the topic to which the link is related.
You should use keyword-rich anchor text that is relevant to the destination of the link or the keyword. you are targeting to improve your ranking. If I create a backlink for this article my anchor text will be 'Backlink Strategies' or 'Why are backlinks important as these words are relevant to the content of this post.
The best source to buy backlinks
If you are looking for quality backlinks for your website. Then I would recommend quality sources to get high DA PA backlinks for your website and rank high on search engines.
1. Linksmanagement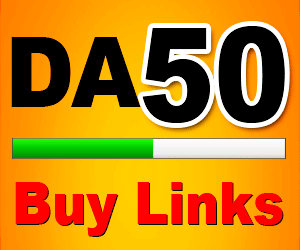 Buy Quality backlinks from Linksmanagement receive a 25$ bonus for sign up!
2. SEOestore
Conclusion
Backlinks are links from external sources that are directed to your website. They are important for search engine rankings because they act as votes and reflect value.
In addition, backlinks will broaden your reach and, bringing your website to a much wider audience.
You should aim to add backlinks from a range of high authority websites within your topic or niche. and ensure that you use keyword-rich anchor text wherever possible.
Now you know what backlinks are and why they are important and the next topic I will focus on the backlink strategies.